Instructions
As Christians, we fight against a real enemy. We may refer to these powers as "Satan," but our enemy is the whole army of fallen beings who serve Satan and try to work within the world's systems to influence men away from God and His Kingdom. There is much that could be said on this topic of spiritual warfare, but I want to limit it somewhat. My focus isn't so much to explore the breadth and depth of the topic but rather to share what is relevant to the Spiritual Inventory, as it can be a very powerful tool to break down the strongholds of Satan and destroy his work in our lives. This is key to experiencing freedom in Christ and the abundant life that He promises—which is most relevant to our topic of Kingdom expansion.
Take a look at the top of the Spiritual Inventory with the examples written in.  In the column and boxes you can see references to personal sins, occult involvement, victimization, Satanic thoughts, and ideological strongholds. Any and all of these can become what the Bible calls "strongholds" that Satan uses to keep us from fully surrendering to God and experiencing life in the Spirit and freedom from sin. The Apostle Paul refers to spiritual strongholds in 2 Corinthians 10:3-5:
For though we live in the world, we do not wage war as the world does. The weapons we fight with are not the weapons of the world. On the contrary, they have divine power to demolish strongholds. We demolish arguments and every pretension that sets itself up against the knowledge of God, and we take captive every thought to make it obedient to Christ.
You can see here the reference to the war that is being waged between the opposing armies of God and Satan, and you can see that we should be spiritually armed to fight in that battle. However, there are strongholds (which are lies) that the enemy strategically uses to gain ground and maintain his advantage. Through Jesus Christ, we can take our thoughts captive, walk in the truth, and destroy the enemy's advantage.
Before you begin to populate your personal spiritual inventory (the blank form or a regular piece of paper will suffice), it is vital that you bathe the process in prayer. You must be sure that your house is "clean;" that is, that you have experienced authentic repentance with the result of desiring to live in obedience to the commands of Christ and grow in His likeness. You need also to commit your signature to that "blank piece of paper." Surrender all to God, show your willingness to follow wherever He leads, and allow Him to work in you through circumstances that will stretch you, challenge you, and discipline you when necessary.
Most importantly, you must understand that the authority to demolish the strongholds of Satan does not come from you; it is not a result of your goodness and it is not something that you can speak against in your own power. You must use the power of Jesus' name and His authority to take back the ground that the enemy has taken in your life. You must stand strong to declare your freedom from strongholds and all of their effects; this can close all the doors in your life that now remain open to the enemy. Recall the prior analogy: if you leave the doors open, the enemy will come in and get his muddy footprints all over the house that has been cleansed and now belongs to the Lord Jesus Christ.
The first area you should consider in the Inventory is personal sins. You will want to write down in the first column of the worksheet any personal sins that you have struggled with, particularly habitual sins which indicate a stronghold of the enemy. Ask God to specifically reveal things to you, and make sure to get to the root cause of your struggles rather than to name resultant sins. You can see, at the bottom of column one, that the goal of the inventory is to help you to repent of these sins.
Now let's move to that center column, Occult influences. This may or may not be relevant to you, but any occult influence is an open door to the enemy. It can be a magazine that arrives in the mail that contains anti-scriptural ideas; it can be cutural traditions or even patriotism or tribalism. Occult influences may also be outright witchcraft or cults. New Age ideas are a Satanic influence, as are astrology, some types of meditation, and even secular viewpoints like humanism. It is a good idea to get rid of any physical items which may be strongholds, but you also need to repent of any occult involvement that may provide a stronghold for Satan's continued entry into your life. Anything that you have experienced in the past and which may continue to invite Satan's involvement should be included on that list. You can see at the bottom of that column that all of those strongholds must be renounced and power taken away from the devil in Jesus' name.
In the third column you will list any victimizations which Satan uses to influence you away from God and His Kingdom. You may harbor unforgiveness—and remember the words of Jesus in the Sermon on the Mount: "Forgive, and you will be forgiven." Victimizations can create strongholds because they can cause us to walk in anger or unforgiveness. As well, they can create mental strongholds such as fears, emotional instability, depression, and so on. Victimization effectively holds us prisoner to the past instead of freeing us to walk forward with Christ, in faith. After you pray over and write down any relevant victimizations that are strongholds in your life, the solution is to release them.
In the boxes at the bottom the page, you will consider your habitual thought patterns and ways of believing about yourself and God. Satan is called the father of lies because he leads us away from God's truth; these lies hold us in bondage and can render us ineffective and unproductive for the Kingdom. So, in the first box, write down any lies from Satan that you have believed about yourself. You may struggle with low self-worth; you have to remind yourself that you were created in the image of God, for His purposes, and that He had a purpose and a plan for your life even if  it seems small. You have to avoid comparing yourself to others and remember that you are just one member of the Body and that all parts are unique. Think about your own life and write down the lies you have believed about yourself. Then, read, meditate upon, and even memorize the Scriptures that will remind you of God's truth and help you walk in victory.
The second area of ideological stronghold is the false ideas you have believed about God. I've heard it said that our understanding of God can be greatly influenced by our relationship with our fathers, since God is somewhat of a "father figure." And while God is a holy God and does expect our obedience, He does not remove His love from us when we sin. He is more concerned with our direction than our perfection, as long as we are pressing on. I still find that I have to keep these opposing ideas about God (his righteousness and holiness versus His love and grace) in balance. This is where, again, it helps to be in the Word and to have Scriptures that can help you when you get caught in an ideological stronghold of one type or another.
Praying through the Spiritual Inventory
After you have completed the spiritual inventory, ideally you will share it with someone who is close to you and mature in the Lord—an accountability partner, if you will. James 5:16 says, "confess your sins to each other and pray for each other so that you may be healed." As well, there is power as we gather in Christ's name. Jesus said in Matthew 18:18-20,
"I tell you the truth, whatever you bind on earth will be bound in heaven, and whatever you loose on earth will be loosed in heaven. Again, I tell you that if two of you on earth agree about anything you ask for, it will be done for you by my Father in heaven. For where two or three come together in my name, there am I with them."
There is something powerful in our agreeing together in prayer and being united in Christ.
Our willing confession, coupled with the humility that allows us to share our sins and shortcomings with others, helps us to stand against the enemy and all of his lies. Satan wants us to keep things hidden in darkness, but God wants them exposed to the light. Only then can we be truly cleansed and walk in victory. As well, establishing an accountability relationship is an important element of growing in the grace of God to keep from sinning. All of this is essential for us as we seek to be spiritually strong and to glorify God.
Once you have invited a partner to discuss the inventory with you, you will want to go over some of the things on your list with them. Resist the impulse to just talk about your areas of victimization—easiest because they often focus on what other people have done to us, rather than what we have done before God. While you don't need to name every sin and talk in detail about each and every thing, you do want to share the most important things that create the greatest strongholds in your life—the areas where you struggle most and the root causes. You will want to pray: repent, renounce, and release. In the name of Jesus, rebuke the enemy and remind Satan that he no longer has hold over you, that God has not only forgiven your sin through Jesus, but He has also released you completely from the power of sin in your life. Satan cannot read your thoughts, so you will need to tell him out loud that he needs to leave you alone! For some people, this is a new idea and might be a bit strange or uncomfortable; however, understanding the spiritual dynamic is very freeing. Along with the Spiritual Inventory sample and blank form are sample prayers. You do not need to repeat these verbatim, but they are designed to help you understand how to effectively pray against strongholds in the power and authority of Jesus Christ.
After the Inventory
After you go through your spiritual inventory, the best way to acknowledge the victory of Jesus and let the enemy know that "it is finished" is to burn the paper or papers where you have written down all of your sins and strongholds.
I have to say that after experiencing the Spiritual Inventory process myself and walking numerous disciples through this process, you will never feel so forgiven and so free in all your life! It will feel like you just lost 50 pounds of weight.  During the subsequent several weeks, most honestly feel no urge to sin, or struggle at all. You will likely feel an intense communion with God. It is like night and day! To my disappointment, however, this was not always sustained…and you may again begin to fall into old habits that cause sin. However, you will have new weapons in your arsenal for dealing with temptations to sin and different ways of dealing with sin when it happens. You will have a  more sensitive conscience, a better understanding of God's truth, and a stronger faith to stand firm. Although the spiritual inventory helps us to lock the door against the enemy and protect ourselves, it is not the end, but rather an excellent beginning. I suggest going through the process repeatedly weekly until the list is GONE! FREEDOM from sin is yours!
Assignment
Look over the Spiritual Inventory and prayers; prepare your heart by communing with the Lord in prayer. Ask Him to reveal anything and everything which has been an area of stronghold in your life, so that you can repent, renounce, and release those things and experience victory over sin for His glory.
Prayerfully complete the Spiritual Inventory and seek out a mature accountability partner. Explain the Inventory and its purposes and ask if they would be willing to discuss and pray over your inventory with you. (This can be accomplished in person or even by phone.)
Go over your Spiritual Inventory with your accountability partner, specifically focusing on your greatest areas of struggle that keep you from experiencing victory over sin and joy and peace in your home. Pray in repentance, renounce the devil's work, and seek release from any emotional strongholds that are the result of victimization. Confess the lies you have believed about yourself and about God and ask God to replace those lies with the truth. Have your accountability partner also pray for you in each of these areas. Then, burn your Spiritual Inventory. (This is just good closure.)
Repeat the process weekly until there is nothing left to write on the list! Victory is yours!
With your Bible and a concordance, ask God to show you specific verses that you can write down and post in conspicuous places, meditate upon, and memorize. These will be helpful for times when Satan tries to tempt you once again in areas where you have historically had strongholds. Write down those verses.
Spiritual Inventory Form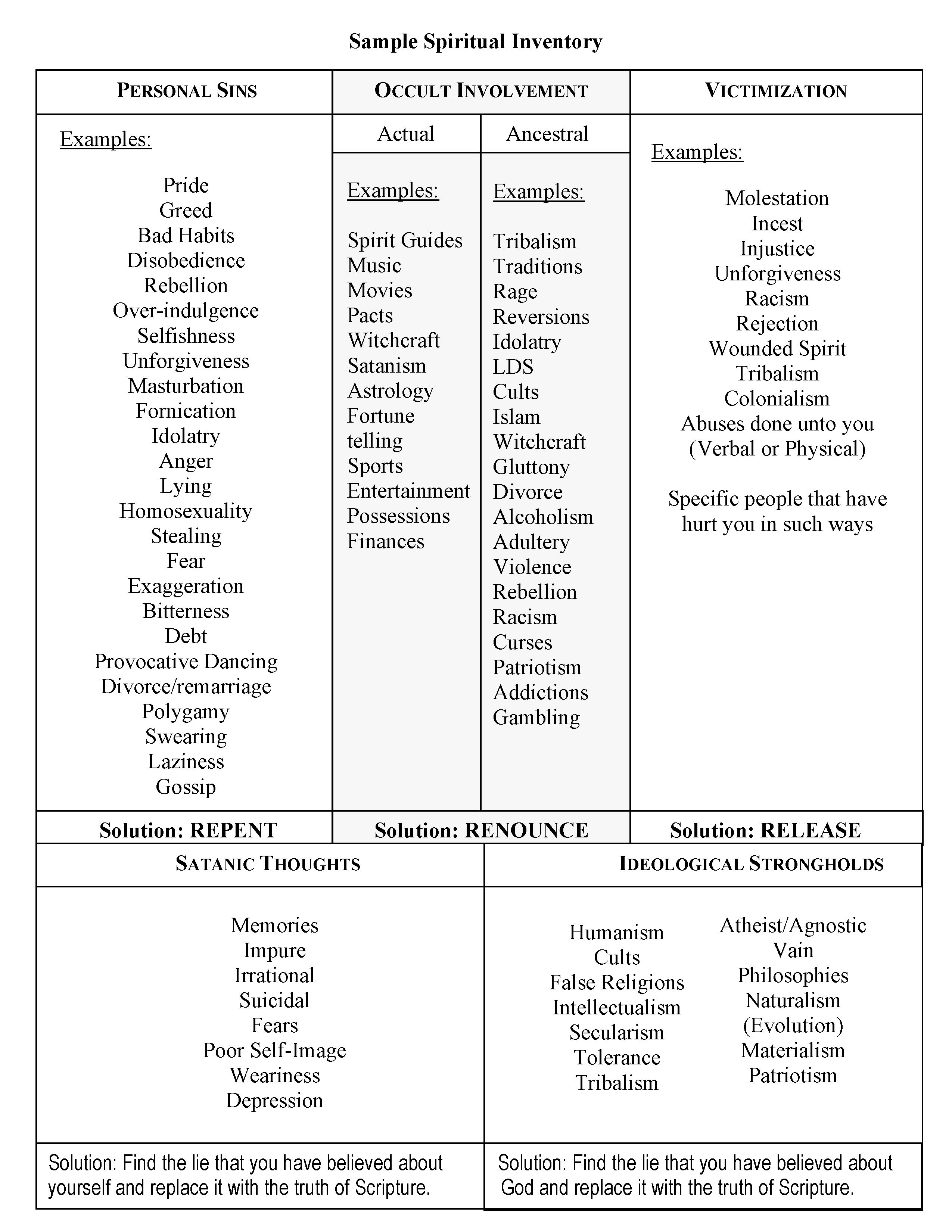 Sample Prayers
Prayers
Opening Prayer: Dear Heavenly Father, you are present here in this room and in my life. You alone are all-knowing, all-powerful, and everywhere present, and I worship you alone. I declare my dependency upon you, for apart from you I can do nothing. I choose to believe your Word, which teaches that all authority in Heaven and on earth belong to the resurrected Christ, and as a follower of Christ, one who is alive in Christ, I have the authority to resist the devil as I submit to you. I ask that you fill me with your Holy Spirit to the fullest and guide me into all truth. I ask for your complete protection and guidance as I seek to know you and do your will. In the wonderful name of Jesus I pray, Amen.
Declaration: In the name and authority of the Lord Jesus Christ, I command Satan and all evil spirits to release their hold on me in order that I can be free to know and choose to do the will of God. As a child of God who is seated with Christ in the heavenly places, I declare that every enemy of my Lord Jesus Christ that is in my presence be bound. Satan and all of his demons cannot inflict any pain or in any way prevent God's will from being done in my life today because I belong to the Lord Jesus Christ.
Under each area pray the following prayer and listen to God to show you aspects from your own life that you may need to confess, and replace the lie with the truth:
Personal Sins: Dear Heavenly Father, you have told me to put on the Lord Jesus Christ and to make no provision for the flesh in regard to its desires. I confess that I have given in to fleshly lusts that wage war against my soul. I thank you that in Christ my sins are already forgiven, but I have broken your holy law and I have allowed sin to wage war n my body. I come to you now to confess and renounce these sins of the flesh that I have committed and the ways I have grieved the Holy Spirit. In Jesus' name I pray, Amen.

Occult Involvement: Dear Heavenly Father, please bring to my mind anything and everything that I have done knowingly or unknowingly that involves occult, cult, false religious teachings or practices. I want to experience your freedom by renouncing any and all false guidance. In Jesus' name, Amen.
Victimization: Dear Heavenly Father, I thank you for the riches of your kindness, forbearance, and patience toward me, knowing that your kindness has led me to repentance. I confess that I have not shown that same kindness and patience towards those who have hurt of offended me. Instead, I have held on to my anger, bitterness, and resentment toward them. Please bring to my mind all the people I need to forgive in order that I may now do so. In Jesus' name I pray, Amen.
Satanic Thoughts: Dear Heavenly Father, I understand that I have believed lies that Satan has told about how you view me, and I refuse to allow myself to be deceived any longer. According to your Word, I am adopted, chosen, called, sealed and heir to the throne, and I am assured that greater is He who is in me than He who is in the world. May you please reveal to me any ways that I have allowed Satan to control my thought life and keep me in bondage so that I may break those bonds by identifying the lie that Satan has told me about myself and reaffirming the truth of what you say about me.
Ideological Strongholds: Dear Heavenly Father, you are the truth and I desire to live by faith according to your truth. The truth will set me free—the truth of Jesus—but in many ways I have been deceived by the father of Lies and the philosophies of this fallen world, and I have deceived even myself. I choose to walk in the light knowing that you love and accept me just as I am. As I consider areas of possible deception, I invite the Spirit of truth to guide me into all truth. Please protect me from all deception as you "search me O God, and know my heart; try me and know my anxious thoughts, and see if there be any hurtful way in me and lead me in the way everlasting." In the name of Jesus I pray, Amen.
Prayers of Confession:
Personal Sins: Lord Jesus I confess that I have sinned against you by [name the sins]. Thank you for your forgiveness and cleansing, and I state that I will not allow sin to reign in my moral body and I will no longer allow my [name the thing that you have used in the sin—ie., mind, thoughts, body parts, etc.] to be used in this way, but rather I will only use my [name the item again] to be used for godly purposes such as [state the item's usage in a positive way—ie., praising, serving, loving, etc.]. Amen.
Occultic Involvement: Lord Jesus, I confess that I have [my family member has) participated in [specifically name every belief and involvement related to this aspect of the list that God has brought to mind] and I renounce the sin of ________ as a counterfeit and a lie. I ray that you will fill me with your Holy Spirit so that I may be guided by you. Thank you that in Christ I am forgiven. Amen.
Victimization: Lord Jesus, I choose to forgive [name the specific person] for [name what they did or failed to do] because it made me feel [share the painful feeling, ie., Rejected, dirty, worthless, inferior, etc.].
After having done this, release yourself from being in bondage to them by praying the following prayer:
Lord Jesus, I choose not to hold on to my resentment. I relinquish my right to seek revenge and ask you to heal my damaged emotions. Thank you for setting me free from the bondage of my bitterness. I now ask you to bless those whom I have been hurt by. In Jesus' name I pray, Amen.
Satanic Thoughts: Lord Jesus, I confess that I have believed the lie of [name the specific lie] that I have been told by Satan and his kingdom of darkness and I renounce the lie that I have believed about myself. I confirm the truth of what you say about me [state the truth of what God says about you and the situation] and I thank you for your forgiveness and commit that I will no longer believe Satan's lies in this area of my life and I will believe what you have revealed to me through your Word. Amen.
Ideological Strongholds: Lord Jesus, I confess that I have been deceived by [confess the specific area that you have believed a lie of Satan]. I renounce this lie that I have believed and I confirm the truth of [restate the truth of what God says about this situation or belief]. I thank you for your forgiveness and commit myself that I will no longer believe Satan's lies in this area of my life, and I will believe only the truth of who God is. Amen.