We (the Carriers) met Silas pretty much on day one when we moved to the village here in Kenya. He owns a shop just across the street from our house, where he lives and works with his wife, daughter, and newborn baby son.
Though we didn't know it from the moment we met, Silas was eventually identified as that "man of peace" that would be instrumental in expanding the Kingdom of God in our community.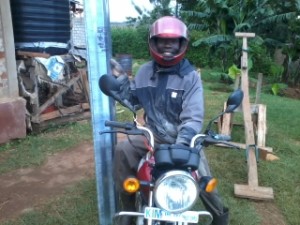 Recently, we helped Silas to purchase a piki piki (motorbike), in hopes that a fledgling business as a boda boda (driver) would help provide more comfortably for their family so that Silas would be more free to invest his time "on the mission." Most recently, he coordinated many of the brothers (under the direction of Charlton Sweazy) to construct a home for a widow in our fellowship. He also regularly shares the Gospel of the Kingdom with visitors to his little shop, runs patients to the local clinic under Wanda's direction, and visits satellite fellowships that are still in need of teaching and discipleship. If there's anything to be done, not only do we trust Silas to do it, but he is always willing.
If Silas has a fault, it's his memory. Rumor has it he suffered a head injury as a youth and was never the same (though we've never confirmed that to be true). In any case, he often confuses the English words "remember" and "forget" and he's always "remembering" something–which is really "forgetting." So when you call him to pick you up on his piki piki, he sometimes gets distracted and then "forgets to remember," or "remembers to forget." In other words, multiple phone calls by way of reminder are often necessary. And sometimes he shows up at the door and, after greeting and small talk, when asked if he needs something, he may stand there with a dazed look for several minutes before, with a shake of his head, he says, "Oh, yes!" and then proceeds with the reason for his visit.
We love Silas!
I (Cindy) had the privilege of riding on the piki recently behind Silas as I headed to a women's meeting. I was reminded just why someone like Silas is such a gem. For starters, let me compare him with many other drivers at the boda boda "stage" in town (the place where you can hire a driver from a sea of motorbikes). Many of them are drunkards (not necessarily abstaining in order to pursue a living as a driver). Some are just plain rude and crude. Then there are those who lack not only a desire for safety but common sense as well. Couple that with dirt roads where potholes are the rule rather than the exception, impromptu speed bumps pop up unexpectedly, and pikis share the road with animals, pedestrians, bicycles, the occasional car, and other unsafe pikis often driving at high speeds, and a ride into town (or even a couple kilometers to a women's meeting) can be downright scary.
I meditated on this as I rode peacefully on the back of Silas's motorbike. Needless to say, Silas is as straight-laced as they come. He drives at a moderate speed and even slows down for speed bumps so I don't fly up off the seat. I smiled when we came upon a little girl, maybe a year old, sitting in a little pothole in the dirt path we were driving on. I wondered what Silas was doing as he stopped and beeped his horn, since the house we were at wasn't our final destination. Turns out he just wanted to get the attention of the girl's mother, who was busy doing her wash in the courtyard. They had a short conversation, and then Silas said to me, "Yeah, many drivers they go too fast and they might not see her." True enough!
I called him to come pick me up as I thought our meeting was wrapping up, since for him it was about a 15-minute ride and I didn't really want to wait around. However, as it turns out, our closing prayer time went on longer than I thought it would and, out of the corner of my eye, I noticed Silas pull up on the path outside before we finished. He ended up sitting there for about 10 minutes and I wondered what was going on when I saw him turn around and disappear down the path the same way he had come. To my amusement, when I exited the house I found him giving one of the neighborhood little tykes (about 2 years old, maybe) a spin on his piki, safely situated on the gas tank in front of him. Needless to say, the boy was smiling from ear to ear.
I apologized for making him wait and said,"Those Mamas prayed long today!" To which he simply laughed and said, "Yeah, it's like that." (That's one of Silas's favorite phrases, which he uses liberally and sometimes in a way totally unrelated to the conversation.)
To my surprise, one of the Mamas from the meeting begged a ride home, since it was on our way. Without missing a beat, I got squashed between her and Silas like a mzungu sandwich. Ordinarily, having a piki driver practically in my lap would make me uncomfortable, but knowing that it also made Silas uncomfortable actually made me feel better. I noticed that he scooted up on the gas tank as far as he possibly could to create more space for me. 😉
So now you've met Silas and gone with me a morning errand on the back of his piki. …"It's like that."