Isaiah Carrier is the oldest son of Marc and Cindy Carrier and has lived in Kenya since 2012. Having earned his GED at age 16, he spent several years voluntarily serving with Kingdom Driven Ministries, building relationships in the local community and our network of house churches and becoming fluent in Swahili.
Isaiah has supervised water well installation and spring development projects, been active in serving both the medical missions and malnourished children's feeding programs, and has maintained the motorbikes used by our team of evangelists and teachers. He is also being trained in some of the administrative aspects that are essential to the mission's function.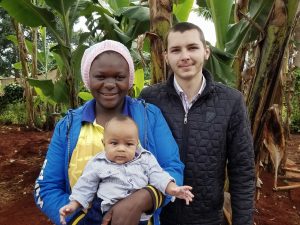 His years of capable service, in spite of his youth, earned him approval at the age of 18 for a three-year work permit to serve as a full-time missionary. Concurrent with this new beginning, Isaiah  married Judith Majoni in September 2017, and they welcomed their first little one in February of 2019.
Isaiah is now active with the mission as an evangelist and teacher. He and a Kenyan brother have invested much time in recording the Swahili New Testament to create a free audio app. He also works with several brothers in a music recording ministry, through which they hope to reach out with the Gospel to local youth. He continues to serve in any other areas of need within the ministry, including maintenance, administration, and youth discipleship.
Donations to Isaiah will enable his vital, ongoing support role in KDM's East Africa missions and can be made on a one-time basis or as an ongoing monthly "subscription." Choose your option and amount below or visit our donation page. Thank you for your support.
Give a one-time gift of any amount to support Isaiah's work:

Or, commit to monthly support: