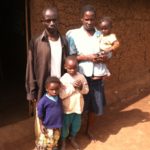 Anthony Mirundu, age 32, a resident of Muungano village, husband to Agnes and the father of three children, is one of the patients who has recently been sent to us by the local government authority seeking medical assistance. Brother Anthony is a very poor man who has been suffering from a serious wrist wound which started in early 2011 as a small sore infection, but slowly grew and became a terrible problem to him and his entire family.
Late in 2011, he was admitted to Kakamega General Hospital for a while, and due to financial constraints he was discharged from the hospital without receiving any medical assistance. His relatives and friends contributed a little money and took him to another local hospital, Kitale District Hospital, for examination. After a wrist X-ray, it was reported that there was "an expansible osteolytic soap-bubble lesion of the distal radical metaphysics." There was also large soft tissue mass and minimal soft tissue ossification; the conclusion of the report was radial bone neoplasm, likely chondrosacroma, which is the cause of Osteosacroma disease (a malignant bone tumor).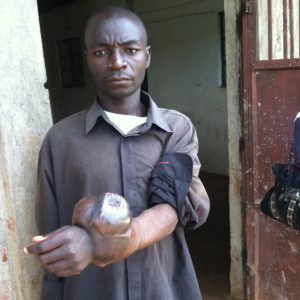 Being without any source of income, Anthony was unable to seek for further medical assistance, and instead he visited the local chief's office to find help. In turn, the chief also sought compassion from Kingdom Driven Ministries.
Our desire is to show compassion to Anthony and alleviate his suffering. But as we all have our own limitations, it is not always possible to do good at all seasons and to all people. Perhaps it is good if I borrow the wise words of Cyrus the Great, the ancient prince of the Persian people, to drive the point home:
"And I think that no virtue is practiced by men except with aim that the good, by being such, may have something more than the bad; and I believe that those who abstain from present pleasures do this not that they may never enjoy themselves, but by this self-restraint they prepare themselves to have many times greater enjoyment to come."
As Christ-followers, we know that as we sacrifice to meet the pressing needs of others, we indeed store up for ourselves treasures in heaven. These works should be directed by our God-given compassion. Albert Einstein said,
"A human being is part of the whole, called by us "Universe," a part limited in time and space. He experiences himself, his thoughts and feelings as something separated from the rest- a kind of optical delusion of his consciousness. This delusion is a kind of prison for us, restricting us to our personal desires and to affection for a few persons nearest to us. Our task must be to free ourselves from this prison by widening our circle of compassion to embrace all living creatures and the whole nature in its beauty."
It is true that we so often see what is immediately before us and concern ourselves with those closest to us. Yet we should all challenge ourselves with the words of Jesus himself: "if you love those who love you, what reward do you have?" So in a case such as Anthony's, perhaps you can help us to extend our circle of compassion. If you would like to donate to help us assist Anthony with his medical need, please visit www.KingdomDriven.org/donate. You can earmark to Urgent Needs/Medical or note that it is for Anthony. May God bless you for your generosity and also for your much-needed prayers as we seek a way forward.