The core vision of Kingdom Driven Ministries is the Great Commission: making disciples and teaching them to obey all that Christ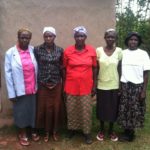 commanded. A part of that vision is, of course, empowering women through discipleship and mentoring. Our main focus is to see that women in our fellowships and community are not neglected nor left behind in their spiritual development or in the work of Kingdom expansion. As in every community, women play a central role in shaping society, and their impact is no less felt in the church body.
In the initial stages of discipleship, it was not an easy task to gather women for ongoing meetings. Most women are necessarily preoccupied with the everyday tasks that demand their attention: gathering water and firewood, making meals, caring for children, and oftentimes doing the work of a small business. Nevertheless, we thank God for enabling us to mentor those who He brought our way. Despite their small number, we have found consistency in their commitment to weekly Bible study, prayer, and fellowship, and for that we cannot help but praise God.
In these Tuesday Mama's meetings,  they typically discuss one lesson from the Bible, using our guide book, the Discovery Bible Study. This involves a time of sharing prayer needs and praying corporately for one another and for needs in the community.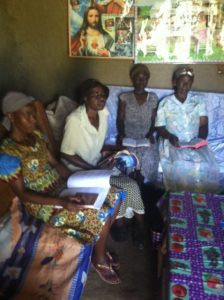 Another thing that they strive to do in these meetings is to meet one another's needs when possible. They have resolved to walk with something little, in case one of them is in want of daily necessity. In this way everyone is prepared to contribute to solving the need; indeed it is a pleasant to behold this concern for one another.
Recently, two sisters, Judith and Mary Stella, tried to explain to me the wisdom behind their giving and contributions. This is what they told me:
"During our Bible studies, we discovered that in the Kingdom of God, is better to give than to receive, and we found out that the only way we can store our treasures in heaven is by helping one another in time of needs and wants. That is why we choose to practice to do that," said Mary Stella. Judith added, " We also believe that, to be in communion with Christ, we must be in oneness with each other. Serving one another is to serve Jesus himself. We have discovered that our compassion and love for another grows strong, and that is why we are strong, although we are few in number."
These weekly meetings rotate from house to house each week. Among the few mamas who have committed themselves to this band of women are Judith, Mary Stella, Annet, Mary and Maureen.
It's our prayer that they will grow strong in the way of the Kingdom and bear much fruits. Please think of these Kenyan women in your prayers as they strive to walk in the light and truth of the gospel of Christ Jesus, our Lord and King.
For those women who have not been able to regularly attend weekly meetings due to the burden of daily responsibilities, we have hosted an annual "Mama's Meeting," where all the women from our dozen or so satellite fellowships gather at the "mother church" for day-long teaching and, of course, a good lunch. There, they received teachings pertinent to women, wives and mothers as well as a call to take responsibility for their ongoing personal discipleship in Christ. They were also encouraged to meet as often as possible with other Mamas in their area.