A cobbler, or shoe repair person, was once not an uncommon sight in America and other developed nations. Nowadays, however, it's oftentimes cheaper to buy a new pair of shoes than fix an old pair, if it's even possible to get old shoes fixed. Yet in developing nations like Kenya, shoe repair is still one of the most vital of crafts.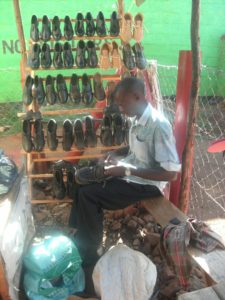 This skill was first introduced by Asians who were employed by the British administration, to make and repair the colonial officer's shoes. It was not until the Asians were deployed for the task of constructing the East Africa Railway line that the natives of East Africa were trained in the craft of shoe making and repairing.
Over the years this craft has been growing incrementally in different parts of the region, attracting many people to it–often, those without school education who would benefit from learning a skill through apprenticeship.
During the infancy stage of the shoe repairing industry, many people looked down on it and named it, "the work for the disabled and handicapped folks." This was because of its simplicity and stationary nature. But this perspective has changed due to inadequate employment opportunities, thus forcing even those with education and physical ability to plunge into shoe making industry.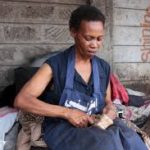 The craft of shoe making and repairing is one of the easiest skills that can be learned and mastered. It is also one of the cheapest as far as startup and material costs. Because this craft is not being taught in public school, the only way of learning is through apprenticeship or personal training.
Experts in making and repairing shoes are often employed in big shoe stores in major cities. The shoe stores are typically owned by the Asian people who started the industry in the region. Those who are fortunate enough to find job in the major stores will earn higher wages compared to those who are self-employed.
Most of the small  shoe repair shops are found in highly populated regions, where they can have contact with many customers. Perfect regions for this industry are slums and small towns. However, it is also a successful niche in villages, where people cannot afford to buy new shoes when theirs are worn out or broken.
Repairing a broken shoe is more affordable than buying a new one. Often the charge of repairing a shoe is not more than  20-50 KSH (20 to 50 cents), compared to maybe 1000 shillings for buying a nice pair of work or school shoes. But even flipflops, which might cost $1, are worth repairing here!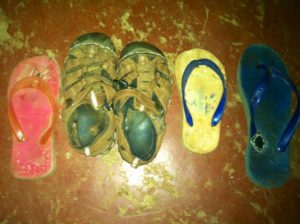 Indeed, the industry of shoe making and repairing has been a great relief to many poor people who had no hope of being otherwise profitably employed. Is true that many families are being sustained and children educated, through the craft of shoe making and repairing. One successful shoe-repair entrepreneur commented,
"I really love this craft of shoe making and repairing, it is a good job and has good money to sustain a man and his family. When my leg was amputated, I thought my life was over and my hope was gone, but God is good He gave me something to do."