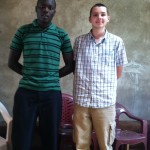 It might sound like a fairy tale or perhaps an ancient tale of the apostles dividing the world among themselves,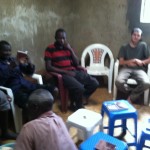 and conquering them for the Lord. You may wonder and say to yourself, "Am I reading an account of St. Thomas evangelizing the villages of Asia, or is it St. Peter preaching in the city of Rome?" Believe me, this is far away from a fairy tale, though many centuries away from the ancient accounts of the Lord's apostles. This is a story to tell, a tale of two young, devoted evangelists, full of zeal and enthusiasm for the Kingdom of God. A marvelous tale of Nashon Ouma and Isaiah Carrier, the carriers and pioneers of the gospel to the rural villagers of the nation of Uganda.
  And Jesus came and spoke to them saying"All authority has been given to Me in heaven and on earth. Go therefore and make disciples of all nations, baptizing them in the name of the Father and of the Son and of the Holy Spirit, teaching them to observe all that I have commanded you; and lo, I am with you always, even to the end of the age" Mathew 28:18-20
This is a story about Isaiah Carrier age 17, the eldest son of Marc and Cindy Carrier, the missionaries from America sojourning in the land of Ham, and Nashon Ouma, age 25, the eldest son of Wilson, both disciples and natives of Kenya. In one way or the other their souls are deeply entwined like David the son of Jesse and Jonathan the son of King Saul. Surely these must be the doings of the Lord. How could it be otherwise in this world of conflict and hatred and racial discrimination?
Nashon and Isaiah are normal and ordinary young men just like any other young men. What distinguishes them is that they are here on a greater mission, with a greater set of responsibilities and a greater accountability to the one who sent them to all nations. Their lives are demanding though they are still youths. Their lives are trials. Their journey is rough and tough. It is not a journey for the faint hearts or for those seeking pleasure and repose here on Earth. Do you think is an easy occupation to be an evangelist? No, it is not easy and it had never been easy, even the accounts of the apostles concur with this truth.
In the Acts of the Saint Thomas the apostles are shown dividing the nations among themselves for the evangelistic activity. When Thomas was assigned India, he protested, "I cannot go there because of the fatigue of the body on the journey, for I am a Hebrew." Jesus then appeared to Thomas, urging him to go to India, but he continued to resist, saying , "I would that thou wouldst send me into another country, for unto the country of India I cannot go." It was not until our Lord appeared himself to Abbanes a merchant from India, and sold Thomas to him as a slave. Thomas recognized himself as Jesus' slave, yielded, and thus went to India as a slave of Abbanes the merchant. The result was he baptized many many people and until today he is recognized as the father of the Asian church.
( Excerpts from Search for the Twelve Apostles, by William S. McBirne)
It was the same story, too, with Nashon and Isaiah, genuine hesitations: "We don't know their native language….what about the fatigue of riding a motor bike to a foreign nation?…but we are not mature enough, we are still young." To them these were among their great cloud of fears which they had to face and conquer. It is true that an evangelist's resolve will be determined with the quality and quantity of preparation and disciplining for their mission. Isaiah being the son of Marc, a servant and disciple of Christ, had a higher advantage; he was disciple since the day he was born and in his young age he is very well versed in the ways of the Kingdom and the teaching of the LORD. His only dilemma was the challenged posed by his skin color, the color that many African consider to be the true color of the dollar. Perhaps you are not aware  that white skin has a greater potential to do permanent damage than good in the evangelism field.
Nashon was not also disadvantaged in his training and discipleship. Since the time he finished his High School education in November 2013 and was baptized at the same time by brother Marc, he had been walking very closely with Marc until on November 2015, when he was ordained by the church as an evangelist. Was this ordination a vain and fruitless thing? For the answer let us follow them to one village in the nation of Uganda.
First apostolic mission for Nashon and Isaiah
On their first trip to Uganda, these young and  inexperienced evangelists were led by Marc himself. Their mission was to find their man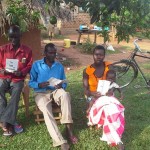 of peace. It was not long before they met one shoemaker and established a relationship with him. After few days of teachings it was obvious he was not their man of peace; the shoemaker was not ready to count the cost and surrender to the kingdom. Their mission ended there. They returned back to Kenya. After one week Marc sent them again with more instructions and blessings. And on their second mission trip the Holy Spirit was guiding them. Isaiah noticed a man walking alone and silently as he passed them, then he whispered to Nashon, " That must be our man of peace, let us follow him." They immediately arose and followed him. After they caught up with him, Nashon didn't  believe  what he discovered, his great fear of the language barrier melted away like a wax passing close to the fire, believe it or not he was able to speak the native language of the village, very fluently,  just like the natives of the land. For sure the Lord was with them just as He promised His apostles. If it was not a miracle then it was a divine preparation.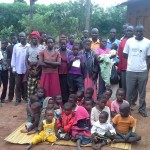 Nashon asked the man if he was willing to open his house for them and allow them to share the gospel with him and his family. The man was very much pleased with the words and also with the young men. He welcomed them and invited his neighbors who numbered to more than twenty four men and women. Nashon and Isaiah planted the seed of the kingdom using one of our most powerful field tracts, Two Kingdoms, to lay the foundation of the kingdom. The message threw them off their balance; it was such a powerful and unique message to them, not forgetting it came from young and simple men. The day ended, and they were welcomed the following day to hear more from them. On their second day they shared with them the second field tract, Repent, Surrender and be Baptized, which led five people to repentance and surrender and Nashon baptized them. The Church was established immediately in the house of Humfrey, a former Muslim, their man of peace. And they continued in teaching them more about the kingdom in obedience to what Jesus said to do with the newly baptized, using the third field tract ...and Teach to Obey ALL that Christ COMMANDED. Two more young  men surrendered and were baptized and the  number of the saints numbered to seven. Now they are leading them  slowly through the teachings  of what New Testament church is all about in the fourth tract,  What does the Bible Say about  CHURCH? as they  lead them on their journey of Kingdom discovery. In this journey they were not left empty handed….they left them with two powerful tools to illuminates their understanding as they begin their royal journey and greater adventure of mankind towards the discovery of the ancient treasure, the kingdom of God, in His parable of the Hidden Treasure he said, "Again, the kingdom of God is like treasure hidden in a field, which a man found and hid; and for joy over it he goes and sells all that he has and buys that field."(Mathew 13:44). They received the Bible in their native tongue, the likes they had never ever seen before, and Kingdom Discovery Bible Study guide book. It is their first time to own a Bible and I believe it is an incredibly miraculous gift to them. ( All the field tracts mentioned above are very helpful and freely available on this website.)
 "And this gospel of the kingdom will be preached in all the world as a witness to all the nations, and then the end will come" Mathew 24:14
We glorify Our Lord and King for imparting His divine grace in the life of this two young faithful witnesses of the kingdom gospel. It may take us eternity to fully comprehend the greatness and achievement of these young evangelists, but I do believe God and His angelic assembly, and Satan and his demonic assembly, fully understand the impact to their respective kingdoms. Now we must fully understand that a father will be known through his sons, and a teacher through his disciples. As we speak peace and blessing to Nashon and Isaiah, let us speak great blessing and peace to their teacher, Marc Carrier. Above all pray for the young and new house church in Uganda. Pray for Nashon as he continues to labor in translating the literature to the local vernacular. Pray for Kingdom Driven Ministry! We need your prayers. They are vital.
Greetings from  the Horn of Africa. Peace, be still.