Apparently February was a month for broken bones in our small Kenya village. We sent two young girls to the District Hospital, one to set a hand broken in a fall (pictured below, after cast was removed) and another to set a leg broken when she was hit by a motorbike (pictured below with cast). If you remember the elderly Mama with the broken ankle from last month, she also re-visited the hospital for a follow-up and to have her cast removed. We are pleased to report that she is back on her feet, praise God!
Eunice, a mother of 10 children (nine girls and one boy!) went to the clinic with what she suspected to be malaria, but it turns out she picked up brucellosis, a disease common among those who have milking cows (which Eunice does). This took several visits to the clinic for injections, and she now reports improvement. A neighbor of ours, Rose, a middle-aged Mama, was bitten on the leg by the dog of one of our other neighbors. She also went to the clinic for treatment.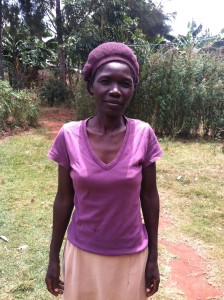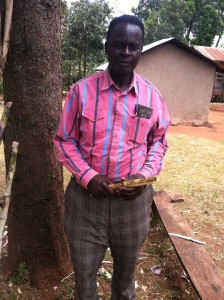 Judith, an abandoned wife with two teen girls in our fellowship, has struggled through TB treatments for the past several months, and had finally been improving. You can imagine how difficult it was for her to get sick again this month, now with malaria and typhoid. After much prayer and treatment, she is now feeling better. Please keep her in prayer, as her TB needs ongoing treatment (it is government subsidized), and when she has other ailments it is very challenging for her physically.
Our Matunda fellowship's Mzee Robert was assaulted by a neighbor and injured. We sent him to the clinic for treatment. Also visiting the clinic was Lucky, a 16 month-old boy in our church who is always smiling as he toddles around (somewhat unsteadily). Apparently, in toddler fashion, he got an injury that no one noticed until it got good and infected. It was lanced, drained, and cleaned, and Lucky went home with some antibiotics.
Throughout this month, 13 patients were treated (some for more than one problem, i.e., malaria and typhoid) at our local clinic with the following diagnoses: malaria (6), typhoid (5), soft tissue injury (2), septic wound (1), urinary tract infection (1), and brucellosis (1). The total cost for these treatments was $125. We had referrals to the District Hospital for the broken bones and wound care, in the amount of $90. We also replenished our supply of OTC malaria meds and ibuprofen, which were given out as needed. In addition, several HIV patients were assisted with transport to and from the District Hospital to pick up their monthly medications. In total, our routine medical expenditures (excluding special cases such as surgeries and treatment for chronic illnesses) came in just under $350.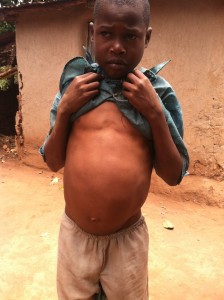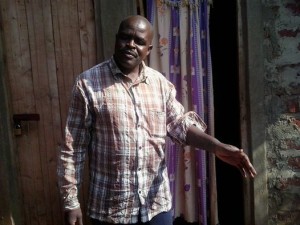 Our special medical expenditures for this month amounted to almost $70. We sent Wafula to the Orthopedic Hospital for a checkup on his badly broken arm (which last month was repaired through surgery with screws, etc.). Also, the young boy Esau (about age 13), who has severe swelling of his spleen, went for further appointments. Last year he was treated for visceral leishmaniasis, which proved ineffective. Earlier this year, he was treated for malaria as a possible cause; they also speculated that the problem could be related to sickle-cell anemia. After taking various medications, he went this month for a follow up and it was determined that the treatments made little progress in reducing the swelling. At the end of next month, he will return to the regional teaching/referral hospital to see if we can nail down an underlying cause and get an effective treatment in order. Please pray for him in the coming days; we trust that God can heal him.