We have many faithful partners who regularly give so that the medical needs of the brethren and impoverished in our community can be met. You might not think it much if you can only give $10 or $25 to meet an "urgent need," but you probably don't know just how far that can go here in our rural village! Someone suffering from malaria with a high fever and severe body aches can experience relief with a couple ibuprofen that cost about 5 cents per dose; the malaria medicine itself is about $1.00. If there are complications or if there is uncertainty about symptoms and we send folks to the local clinic instead of treating them with over-the-counter medication, the bill might run up to about $8 or $10 for a consultation, injections, and follow-up medication to take at home. When you consider that a decent income here is about $50 per month, an unexpected bill for even $10 can be a hardship, so your assistance with these needs is more of a blessing than you realize–especially if the recipient is a widow, elderly grandparents caring for grandchildren who have been abandoned to them, or others who are struggling to get by on irregular day labor because there are few salaried jobs in the village.
With that being said, look at what approximately $250 did this month!…
We purchased over-the-counter medicines so that our community members in need would have access to both malaria medicine and ibuprofen, at a total cost of about $40 for 30 boxes of malaria meds and a large container of ibuprofen.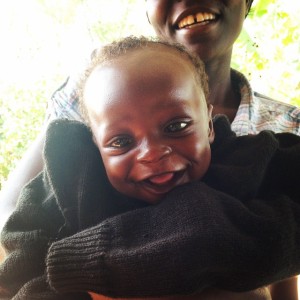 There were several cases of malaria that were referred to our local clinic for further treatment, either because of age or unusual symptoms which we did not feel comfortable treating with the OTC meds. One was a 9 month-old baby who was abandoned by his parents and is now being cared for by his grandmother; Kingdom Driven Ministries has been supporting her with infant formula since Primus was just a couple of months old. He was treated for GI issues and malaria.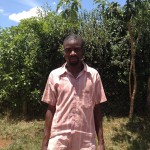 One member of our fellowship, a young man named Ben (father of three little girls) came for OTC malaria medicine and, by his own report, took only one dose when his little girl began to show symptoms of malaria as well. Rather than come for more medicine, he gave her the remainder of his and continued to struggle with body aches and fever for another week before coming to us for further assistance. Because he had stopped the course of medication, we had to take him to the clinic, where he received quinine injections and more medicine to take at home. He is now doing well and, hopefully, has learned a lesson about the necessity of taking the full course of medication for complete healing!
A young girl in our community was treated for a wound which had become complicated by an abscess, and several elderly were treated for respiratory complications, including pleurisy and pneumonia. One of those was the most senior member of our fellowship, Theophilus.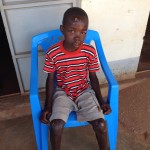 One night near dark, one of the young boys in our community (about age 12) decided to take part in something that all the kids do for "fun"—jumping on the back of a loaded lorry to get a free ride. Unfortunately, he promptly fell off and received some serious injuries to his face and limbs. The fortunate thing is that it happened near the home/shop of one of our deacons, Silas, who is quick to help those in need. He brought the boy to the clinic and the bill was taken care of by the lorry driver and the boy's family. However, the next day we ran into the boy and his mother at the clinic, where they did not have enough money to purchase the recommended follow-up medications. Thankfully, KDM was able to assist them with this need.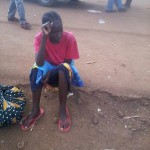 One of our more serious cases was that of Rose Nasambu, who was experiencing many symptoms, including digestive issues and severe headaches. We sent her first to our local clinic, where they tested her for malaria (usually the first course of action). Since the test was negative and the symptoms not definitive, they referred her to our local district hospital. As it turns out, she had been treated for typhoid a couple of weeks earlier and, unbeknownst to her, the medication she was given had wreaked havoc on her stomach, likely because she was not eating food while taking it as recommended. So she ended up compounding her sickness with stomach ulcers and debilitating headaches. Her treatment for the ulcers at the hospital ended up costing $65—more than the usual medical bill for our mission, but I'm sure Rose would say it was well worth the expense.
As of the end of September, we have been able to purchase our OTC medicines and brought 15 people to our local clinic or hospital for care, at a cost of approximately $250. Many thanks to all those who have made this work possible, and may God be given all the glory!