This week, we've had the honor to be a part of a pretty amazing story.
But this amazing story did not begin this week, it began over a year ago in a mosque…
 Marc had the opportunity to teach an Imam (an Islamic leader) and his family about the kingdom of God. During this teaching he prayed for the Imam's daughter, who was seriously sick with a long term illness. Unknown to Marc, she was miraculously healed in the name of Jesus! Amen!
Now fast forward a year. Through an astounding set of circumstances the Imam was able to reconnect with Marc, through Charlton. They set up a meeting at a local disciples home. At this meeting, the Imam was recounting the events of his daughters healing. He admitted that he felt God's presents that day, and he even later borrowed a bible to look into what Marc had taught them at the mosque. It was all true. The only problem was, he did not know how to get back in touch with Marc.
Praise the Lord, because after this meeting the Imam surrendered, repented, and then Marc and Charlton took him down to the river to be baptized.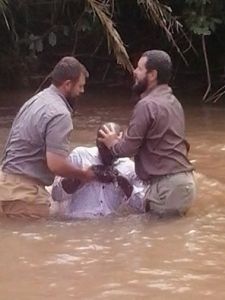 "For this reason also, God highly exalted Him, and bestowed on Him the name which is above every name,  so that at the name of Jesus every knee will bow, of those who are in heaven and on earth and under the earth, and that every tongue will confess that Jesus Christ is Lord, to the glory of God the Father." Phillipians 2:9-11