It is a great honor for us to be able to present this briefing to all of you who are partnering with us in expanding the kingdom of God and serving "the least of these" here in Africa.
Finally, a new day has dawned for the young man, Micah Juma. In our previous report, Sympathize with the Needy, we shared his tragic story. Micah Juma, at age 23 (the year 2011), was involved in two  road accidents which left him with serious physical disabilities. Though his family managed to scrape together some money to begin to address the problems, they quickly ran out of resources and options, leaving young Micah permanently incapacitated.
After he was sent to the Kingdom Driven Ministries by the local chief for medical assistance, and we in turn asked our faithful brethren for support, several gave with great generosity and concern for Micah's condition. We are glad to report that together we have finally been able to make some headway with his care.
In his first accident, Micah's back bone and urethra were badly damaged; in the second accident, his right leg was severely broken. Both conditions were only minimally treated, leaving him for the last five years with a useless leg and a permanent supra-pubic catheter.
Since he came to us two months ago, we have been doing all in our ability to bring relief and hope to Micah and his family. We have encountered some challenges with the medical options available to us, but the Lord has provided solutions as the needs arose. We had to move from doctor to doctor, from office to office, from hospital to hospital, but at last we found a haven of good hope in one local hospital, Webuye County Hospital. After years of suffering, Micah's broken leg was finally repaired this week! He was officially discharged on Friday.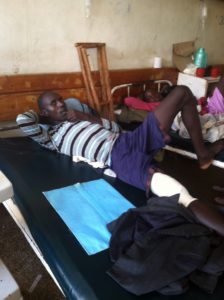 The next big step that awaits him is the urethral surgery, which will hopefully come a few months from now. This period of rest will allow the body to gain sufficient strength and permit the wound and bones to heal. Micah will also receive physical therapy. We pray and trust the Lord will make these next steps possible (and safe).
I would love to pass across the words of gratitude from Micah's family, especially his father. This is what he told me when I visited him at the hospital after the surgery:
"My family and I would love to express our sincere gratitude and great thanks to all those individuals who have stood with us, and supported Micah. We feel like the big stone that was hindering us from seeing the love of God has been removed by the servants of God. Though  we have nothing to repay them, but still we have something to offer them. We will remember them in our prayers, and ask the Lord to shower His blessings on them, so that they can continue in good work, and help many more who are suffering in deep distress. God bless you."
The prayer of the poor is no small thing; God is attentive to the cry of a poor man. In the same line of gratitude, we at Kingdom Driven Ministries give thanks to all our brethren for making our duty and service both possible and enjoyable.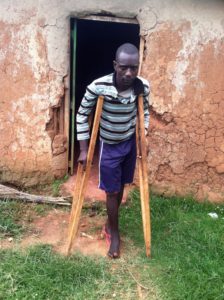 As Micah recuperates, we plan to take him for a scan, which will be brought to his next consultation with the surgeon so that they can assess the damage to the urethra and see if it can be repaired at the same facility that performed the leg surgery. We have approximately $700 remaining that is earmarked for both physical therapy and the next procedure. Because we needed to pursue next-level care to get the leg surgery done, we are operating with less funding than anticipated going forward. As the future needs become clear (based on consultation and best estimates from the surgeon), we will let you know if further assistance is needed. In the meantime, Micah, his family, and the team here at Kingdom Driven Ministries are thankful for what we have been able to accomplish on Micah's behalf. Please pray for his recovery and for the future use of his leg.