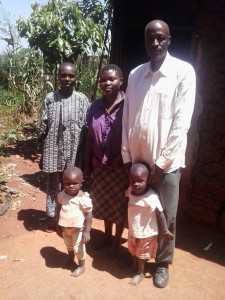 Mzee Erasto, age 56, is the father of eight children and the grandfather of Eliya and Abigail (two of the children in our malnourished program). He is also one among many wazee ("older men")  in our house church network. How did this man come to the knowledge of God? What prompted him to seek salvation? This man saw faith in deed and believed.
Mzee Erasto was bitter and sour in heart. His daily life was full of adversities and hard problems; indeed he was in great distress. Being a breadwinner and a father of eight children was a big and unhappy task for him, keeping in mind that he had no job and means to sustain his family. He was in despair and concerned especially about two of his grandchildren, as their health was deteriorating day by day. They were children of his daughter, Robbies, who had been married but returned home in disgrace because of mental health issues. She had obviously struggled to care for the children; they had developmental delays and were severely malnourished. When she returned to her home community, the whole family was ridiculed. Neighbors asked among themselves, "Where will they bury these children? They don't even have a shamba [farm]!" This only added to Mzee Erasto's burden. How did he come to see the Kingdom of God through all this?
Eliya and Abigail were first discovered by the Sweazys, the missionary family who sojourned here for a little while before moving to Uganda. When they came across these needy little ones, they took them in their house and shared the love of Christ with them. To Mzee Erasto this was not an ordinary thing; it was something not of this world. Truly to him they were good Samaritans sent by God to answer his deep secret prayer.
"My prayer was that if God would be merciful and remember these little children, and restore their health, then I will serve and love the Lord God with my house," said Mzee Erasto. Did God listen to this man's prayer? Was he answered and granted his desire? Of course yes, the Lord granted the request through His servants. Truly this man came to believe that this is a permanent law: ask and you will receive.
After a few weeks of visiting the local fellowship and attending the weekly wazee meetings, Mzee Erasto was moved and greatly touched by the ways and simplicity of the brethren. During one of the fellowship meetings, he stood and declared, "I have met people who are not of the world. I have met people of God, and I want to be one of them." So our dear brother Silas shared the message of the Kingdom and planted the seed of truth. Mzee Erasto was guided through repentance, and eventually baptism. The Words of Christ resonated with him: "Come to me, all you who labor and are heavy laden, and I will give you rest. Take My yoke upon you and learn from Me, for I am gentle and lowly in heart, and you will find rest for your souls. For My yoke is easy and My burden is light."
Mzee Erasto's life was changed and transformed, his heart softened and sweetened by the love of God. His eternal gratitude is to the brothers and sisters who made this miracle a reality, and above all to the great God and Father who is in Heaven.
"I am so happy every day when I see my grandchildren looking just like other children. I am very grateful to the people who unselfishly helped us. Now we have food at home and the truth of the Gospel. I am a poor man and I cannot repay all the people who helped my grandchildren and other children, but God will repay them. I will always repay them in prayers," said Mzee Erasto. This man is overjoyed that now his neighbors see the work of God in the lives of his children and grandchildren. Even Robbies has miraculously improved, working at home and helping to care for her children. He looks forward to Abigail and Eliya being able to attend school just like other children, something he had previously not thought possible.
The Kingdom Driven community also thanks all of you brothers and sisters for you great help and donations, for enabling us to serve and help the people around us. Every single dollar donated in the spirit of LOVE is an immortal dollar; every dollar that can be converted into LOVE is eternal treasure.
Kingdom Driven Ministries welcomes Reagan Simiyu as a contributing author to the blog.