We are thankful everyday that the Lord lets us continue working in the mission field of Kenya. Praise and glory to the King of Kings!
This past month certainly started with a BANG! We experienced our second emergency snake bite case. A sixteen month-old was rushed to our compound one evening because she was bitten by a snake. She had a fang mark on her leg that was starting to swell, and she was drifting in and out of consciousness. After assessing the patient, Tim, Charlton, and Wanda jumped in the van and rushed the child and her family to a hospital in Eldoret, about two hours away. We are happy to report that she is doing well, and returned home several days later.
Not long after the little girl was brought to us, a two month-old little boy was brought to us as well. His name was Primus, and he was malnourished. We (the Sweazys) had the  beautiful opportunity to take him in and nurse him back to health. Through the generous donations of the body of Christ we were able buy him ample formula, take him to the doctor, and buy him clothes, blankets, and other needed supplies. He is now back home with his grandmother who has been his primary caregiver since birth. She has been trained on how to feed him, but will need further training. Please keep grandma, and baby in your prayers.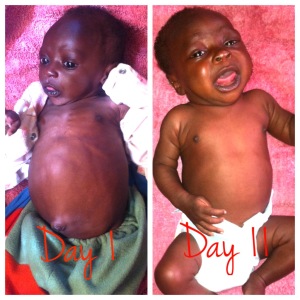 During this two week period of caring for Primus, we had an intense four day Swahili language class scheduled as well. Our brother Glenn came up for the week, as well as our language teacher Jim. Jim has been living in Kenya for 22 years, and is fluent in several local languages. Charlton actually met Jim in Kisumu through mutual brothers and sisters in Christ. He arranged for Jim to make a trip to see us, and the timing could not have been more perfect. The Nafziger family had just arrived, and were able to get a jump start on the language!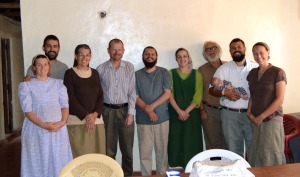 Charlton also made a trip to Uganda with Nashon to assist a brother named Joseph, who is doing work with a group of physically handicapped people. They made several repairs to the building in which everyone lives and works. They also replaced and repaired equipment that they use to make a living. Later on in the month Joseph came to stay with us for a weekend to further his discipleship. He also had to opportunity to see how we do home fellowship and communion.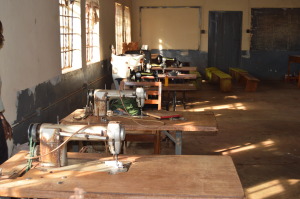 Literally, the day that Joseph left to return to Uganda, Tim and Charlton drove down to Kisumu to visit one of our home fellowships. They both did some teachings and spent some good time with the people.
Unfortunately, this month has had some challenging times as well. Our neighbor's relative died at a very young age, which brought much sadness to the village. Marc, Cindy, and Tim were able to attend the funeral, and it opened up a door for Marc to teach about the Kingdom.
Marc has also been dealing with some church discipline issues in Saboti and Naitiri. We are happy to report that the Naitiri church has completely confessed and repented. We have also had major breakthroughs in the Saboti church. God is doing amazing things!
Thank you for the continued prayers and support. We are excited to see what God is going to do next.