Many people in Kenya celebrate Christmas, but not in quite the same way that Westerners do. No Christmas trees, no Santa Claus, no nativity scenes, and (at least here in the village), not even any presents. But it is a good excuse to buy everyone in the family a new set of clothes, and maybe there will even be kuku (chicken) for supper.
Back in December, the wazee ("old men") were all asking Marc if we were going to celebrate Christmas as a church. (And nothing is a gift quite like something you can eat…at least, that's how everyone views it around here!) He had to disappoint them by saying that it wasn't something he felt comfortable doing, given that the early church (Ante-Nicene) did not affirm the "holiday." He did say, however, that the AN church did consider Christ's Resurrection day worthy of celebration. Well. Somehow, that turned into a "promise" of celebrating on Resurrection Sunday, and so the wazee came mid-week last week to remind him of this promise.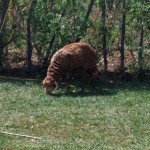 Our deacon, Timothy, was tasked with organizing all the food, laborers, and supplies. Marc gave him a budget of about $100, and by the next day we had a sheep in our yard.
Several of the ladies in our fellowship were commissioned to make chapati, cabbage, rice, and (of course!) ugali. The guy who runs a hotel (restaurant) in the KDM building was put in charge of making the mutton. They would earn a couple hundred shillings each (about $2), and we would all feast. Win-win, especially considering that one of the ladies is disabled, another has been abandoned by her husband, and yet another is a widow.They all struggle, so it's a real blessing to be able to offer them day labor.
On Saturday, Maurice and Ben showed up at our door and asked for a few implements to assist them in slaughtering the sheep, which was done in our side yard. The carcass hung in the KDM office over night. Only in Africa, folks!
The Sunday service was packed, so we met outside. We had about 50 people (including children), from our village "mother church"  and our sister churches in Matunda/Milele, Birunda, and Naitiri. With the cost of transport being an issue, we didn't have any visitors from our fellowships farther away. However, the testimonies were very encouraging, and all the brethren enjoyed seeing people from the other fellowships. Our friend, Silas, had a great teaching-turned-dramatization about what a "ransom" is, and why Jesus died on the cross.
The meal was amazing, and plates were piled high with food. An 18 month-old boy ate about as much as I did! Our children (the wazungu kids!) don't eat quite like their African counterparts, so they came back with lots of leftovers on their plates. It seemed a waste, but we just couldn't communicate well enough that the servers really needed to downsize A LOT. Marc struggled to find a bucket, thinking it would at least serve a purpose as pig slop, but the woman sitting next to me said, "Just give it to the children outside!" Keep in mind, the KDM building is the site of the village water pump, so there are always people around–mostly children, since Moms usually send them when water is needed for the household.
Of course, in America, most people don't eat other people's "seconds," and I didn't want to insult anyone, so I said, "You're sure they will take it?" She said, "Of course!" And sure enough, there were some very happy kids out front who ate what was left on all the plates we brought out.
Praise the Lord, a great time was had by all. We are so blessed to continually celebrate Jesus with our brethren here in Kenya.