Kenya public transport refers to air, road, railway, and water transport–the means by which people get from Point A to Point B. Of course, not every mode is available to everyone.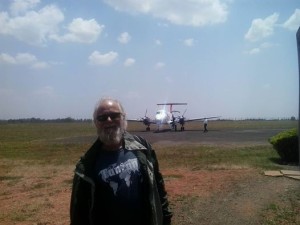 Jomo Kenyatta International Airport, Moi International, and Wilson Airport are the leading public air transports in the East Africa region. These three airports link East African nations with each other and with  the rest of the world. Jomo Kenyatta International Airport, earlier known as Nairobi International Airport and Embakasi Airport, is the leading public air transport facility in the region. It serves daily an average of 19,000 passengers from Africa, Europe and Asia. The airport was named after Kenya's first prime minister and president, Mzee Jomo Kenyatta.
There are also  airstrips that facilitate small aircraft, connecting the capital city, Nairobi, with other small towns: Kitale, Eldoret, and Kisumu airstrips.
Uganda Railways service was the major public transport in the region back in the  '50s and '60s. It was managed by East Africa Railways and  served Kenya, Uganda and Tanzania. After the dissolution of East Africa Region in the year of 1977, the nation of Kenya took over the management of the Uganda Railway and all of its local branches in Kenya. The most important line in Kenya runs between Mombasa and Nairobi. In many parts of the country you will see rail lines, but you will never see any trains. Railway transport is no longer available in many parts of East Africa. An interesting read in the public domain about the building of these railroads–relating the excitement and danger of running the lines through lands dominated by "the Big Five," including some man-eating lions–is The Man-Eaters of Tsavo.
Kenya also has a major international port in Mombasa, serving both Kenya and Uganda. Lake Victoria is another big port, which has a ferry that connects Uganda and Tanzania. It is  only Mombasa that has a commercial port that reaches international standards. Mombasa's commercial port is called Kilindini Harbor. Under the management of Kenya Ports Authority, it is located on the Indian Ocean.
Road Transport–not as Innocuous as it Sounds…
Of course, in our area, the masses are limited to road transport to get from point A to point B. If you live in the West, this sounds pretty innocuous–but let's take a trip together and you'll see a few differences in the way things happen here in Kenya.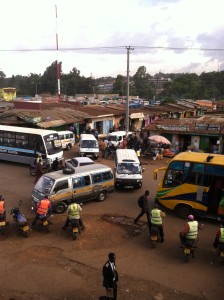 Public buses and matatu (mini-bus) are the cheapest and most popular modes of transport in the cities and towns of Kenya. For those who cannot afford to own private vehicles or hire a private taxicab or rental car, this type of public transport remains the best and only option.
Public buses and local matatu provide both short and long distance travel. Buses are mostly found in the cities and major towns of Nairobi, Mombasa, Nakuru, Eldoret and Kisumu, while matatu are common in small towns and rural regions. Buses are often preferred, as they are much safer, quieter, more reliable, and trusted, compared to matatu, which are filled with loud music to attract travelers and have chaotic road schedules with frequent stops.
Buses and matatu provide express services between major cities and towns across the country. Often fare is paid on board. If you are making a long distance travel then you will  be required to do earlier booking, which can be done at the booking office before the day or time of travel. Buses carry many passengers compared to matatu, which is limited to not more than 14 passenger on each trips. (Of course, this is by law, but many carry more if they can get away with it.)
For many years, the matatu sector was known as the most dark and pathetic industry in the country. It had been linked with violence and reckless driving, resulted in many road accidents and  loss of lives–even  permanently handicapping some passengers who were fortunate enough to escape death. Other criminal activities have unfortunately been associated with the sector, such as mistreatment of the passengers, verbal and physical abuse, theft,  hijacking, sexual harassment, and even murder. At various points, government interventions have tried solve these various issues, but some challenges remain.
Boda-boda
Another reliable mode of local transport, particularly within larger towns and cities, and out in the villages, is boda-boda (motor-bike taxis). They often connect small towns with rural villages, where vehicles are scarce or even absent completely. They also provide a quick, cheap, and trusted means of accessing the most crowded and congested cities. Boda-boda industry has been a great blessing for many people by providing a source of employment for thousands  of young people in many African countries
Public road transport in Kenya is one of the most exciting and intimidating experiences you can ever encounter in your  life time! This experience generates both fear, horror and delight in foreigner visitors. These vehicles all travel on rough roads full of potholes and random (unmarked) speed bumps.  Many of Kenya's major roadways are under construction, with diversions slowing down travel in many cases. Travel by boda-boda in the villages is often on narrow paths, which are downright dangerous to navigate in rainy season. After your travel is over, you may find that you whisper to yourself, "My goodness, it was a nightmare–and  an exciting journey." Getting around Kenya can be at once horrifying and challenging  for those travelers who are not used to driving in congested and crowded environments, or even rough, dusty, unpaved roads. For those who live here, though, it is an accepted part of everyday life, and we are thankful for the modes of transportation that connect us, as well as the continual improvements that are being made.