Unfortunately, some people believe that their standing before the Lord is determined by their power and influence, that their worthiness in the Kingdom of God is a result of their titles and positions, or that their greatness in the Kingdom of God is determined by their huge estates and wealth. They must perish the thought, that is not true. Our Mzee Timothy Sitati, a deacon and an elder in the church, understands the concept of greatness from a very different angle. Indeed, he understands it based on Jesus' point of view.
An argument started among the disciples as to which of them would be the greatest, Jesus, knowing their thoughts, took a little child and had him stand by his side. Then he said to them, " Whoever welcomes this little child in my name welcomes me; and whoever welcomes me welcomes the one who sent me. For he who is least among you all-he is the GREATEST." (Luke 9:46)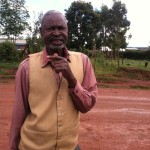 Mzee Timothy is not a perfect man, but he is a blameless soul: sober-minded, a man of one wife and household that fears and loves the Lord, a man to hang around with and learn from. His mode of life and simplicity is unequaled and unattainable by many elders  in our circle of local churches and community in general. His love and adoration of God is very evident in his commitment and service to the church and the needy.
Before he discovered the secret of the Kingdom he was a committed and faithful member of the Salvation Army church. Two years ago, he met with a disciple-maker and teacher of the Kingdom gospel, Marc Carrier, who shared with him the gospel of Christ. He yielded to the message and accepted to be baptized in many waters after the process of confession and repentance. This was a very new and unique experience for him. In his old church, baptism was nothing but passing under a special church flag. But that was not what Christ taught, rather he was conforming to the teaching and traditions of men.
Jesus answered, " Most assuredly, I say to you, unless one is born of water and the Spirit, he cannot enter the kingdom of God" ( John 3:5)
Years have gone by since he entered the Kingdom, and the fruits of the Kingdom have steadily emerged in abundance for all to see and partake. Mzee Timothy is a man with many responsibilities and duties both at his home, church and community as a whole. Being a retired school master, many people regularly seek his advice and counsel, but these days his total focus, allegiance, and commitment is to the Kingdom of God and service to the church.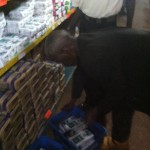 Mzee Timothy shopping for malnourished children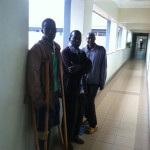 At Eldoret Hospital with Micah
After many days of preparation and discipleship, Mzee Timothy was officially ordained and appointed to take the position of a deacon. This ordination was organized and approved by elders and leaders of the church. Surely none could ever imagine that Mzee Timothy was capable enough to take the office of deacon considering his age and the demands and responsibilities attached with the office. But as the ancients taught, "wisdom is with the gray hair." He has not only met the expectations but has performed all his tasks excellently and perfectly.
Here's what you will find Mzee Timothy doing on any given day:

Supervising and taking care of premises where the Kingdom Driven Ministries office is located. This includes collecting monthly rent for those who pay it, noting repairs that need to be made and organizing for the work to be done, and generally keeping peace.
Maintaining and supervising the community water pump, which is located right outside the KDM building.
Managing KDM's publicly available library of materials, and ensuring that the evangelists and teachers have access to teachings materials and literature.
Maintaining the prayer and meeting room, to ensure that the room is clean and in order before any meeting.
Overseeing the entire malnourished food program: purchasing food, packing and distributing, and taking all the children and their caregivers to the hospital's nutritionist on a monthly basis.
Distributing food (typically maize) to the widows and the poor and keeping proper records. (Being a local, he is very familiar with the struggling families.)
To the patients with minor sickness, malaria, flu and headache, he is always ready to give pain killer and other medicines that we keep on the shelf. For those with more serious problems, he organizes with local medical health centers for their treatment.
He manages funds for malnourished, medical patients, and mission needs.
He helps in dealing with church discipline issues and solving disputes among brethren, along with our group of wazee.
As a church deacon, he initiates special collections for needs among the brethren that are brought to his attention.
Currently he helps Victor Simiyu (a brother with cancer) to manage and budget his food funds and take his medicines properly, and offers him fatherly guidance and support.
He visits the HIV/AIDS patients and ensures they don't fail to collect their transport to go to the government health center for medicines.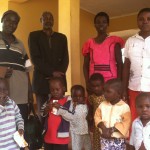 Mzee Timothy with malnourished family at Matunda Hospital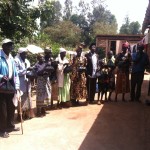 Distributing food to the widows and poor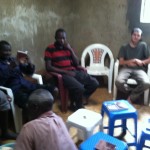 Washing the saints' feet
Mzee Timothy has been a great blessing to the ministry and the Kingdom of God. He has been a great help to the missionary Marc Carrier, as he has relieved him from all these labors, which initially were all performed by Marc or others in the ministry. He is a great blessing to those that he ministers to and serves everyday. He is truly a light to the community. Let us always remember Mzee Timothy and other faithful servants in their work of service to God and men; remember them in you prayers and supplications.
 Mzee Timothy was faithfully serving in many of these areas before his ordination in our fellowship. Because, as a deacon, he has taken on many tasks related to the administration of KDM's service programs, he is receiving a small salary for his full-time labor  from the KDM general fund. This is just one example of how your financial gifts are used within the ministry. God bless you!