"He, therefore, is the devout man who lives no longer to his own will, or the way and spirit of the world, but to the sole will of God; who considers God in everything, who serves God in everything, who makes all the parts of his common life parts of piety, by doing everything in the Name of God and under such rules as are conformable to His glory." -William Law
We strive daily to work for the Lord with all of our heart, soul, and mind. Doing everything in the Name of Jesus, desperately trying to conform to His image. Glory to God in the Highest. What an honor and privilege it is, to be the ambassadors of Christ.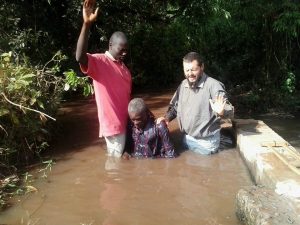 This new year has certainly started out with a bang. Since the beginning of the year, ten people have surrendered, repented, and have been baptized! Six out of those ten people live in Saboti, where a new home fellowship has been established. Last week alone, this brand new home fellowship had 23 people in attendance, with several people who wanted to know more about the Kingdom of God, and are receiving further teachings. The home fellowship in Bidii baptized three people, and our last baptism was a newly converted Imam (http://kingdomdriven.org/every-tongue-will-confess) who we are now working on relocating.
After people are baptized, they are strongly encouraged to walk closely with the brethren. One-on-one discipleship is key, but we also have various mid-week meetings: the mama's meeting, youth meeting, and wazee (Wa-zay) meeting. Let's start with the wazee meeting. You may be asking yourself, what is a wazee!? Basically, a wazee is just an elderly man. But around here, age is relative; once you hit your forties you can be a part of the wazees. The wazee meeting is like a very interactive home fellowship. They come together to pray, sing, and encourage one another. Currently, the wazees have been keeping busy with various livestock ministries. With the money received from an outside charity, cows, chickens, and a pig have been purchased. The livestock have been a tool in teaching the wazee about kingdom finances, through what we would call a "merry-go-round." Basically, its a way of everyone chipping in some money so when there is a need or issue with one of the animals, the funds are there to lend a helping hand to anyone that may need it.
On average the youth meeting has about 15-20 people, ranging in age from 15 years old to about 35 years old. These guys are hard workers, and a number of them are employed by KDM. Recently they have been working on building the KDM discipleship housing. One of our youth named Sam, his wife Sarah, and their three month old son just moved into this building this past week. Sam just started translating books for us, and he is also a gifted teacher. Another project the youth are working on is a fish pond. They are hoping to use the fish pond to generate some income to not only assist one another, but the needy.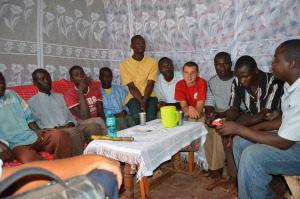 Last but not least, the mamas in our fellowship have been growing not just in numbers, but in spiritual maturity. We are hoping to get another mamas meeting started in Maroki, where another one of our home fellowships is located, in the near future.
Not only have we been teaching and discipling people locally, but we recently had a Women's Conference where 52 mamas came together from various home fellowships and were taught about biblical womanhood. Also, a group of four men from Nabiswa, Kiungani, Toll Station, and Saboti are being trained as field evangelists.
In other news, we have some updates on the various Great Commandment work that is going on. The jigger clinic has been a huge success. To date we have treated roughly 700 people, and handed out over 500 pairs of shoes to people who have desperately needed them. This past month we have really been trying to get these shoes moving, sometimes going out several times per week. We've also been distributing SAW (Support A Widow) parcels. These parcels are a one-time gift that contain food and household supplies, as well as a little money. This is a CAM (Christian Aid Ministries) program that is administered through some of our dear brothers and sisters in Kisumu. This year we have already distributed about 40 parcels. Here is a short testimony from one of the recent recipients:
"I had been without food, caring for a few of my grandchildren. I woke up one morning, not having any idea how we would feed ourselves. I prayed to God, and that same day you came with the SAW parcel. I was so happy, and I continuously thank God for this help."


Some of you may be familiar with the story of our local brother named Victor. He has received various cancer treatments, but we are sad to report that treatment has not helped his condition. He is a very sick man, and only God knows how much time he has left. For quite some time, Victor has been wanting to get his driver's license. Because of his cancer, he is limited on job options. So, we have put him through driving school, and he has joyously received his driver's license. But, just because someone goes through driving school, does not mean that they know how to drive. So, we will be giving him one-on-one driving lessons starting this weekend. Please remember to keep Victor in your prayers.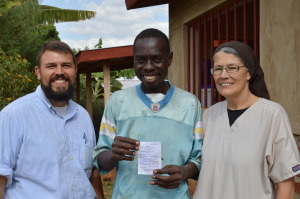 In January, our fellowship also hosted a marriage ceremony. A disciple named Patrice got married to Joan. Patrice had been previously baptized but was re-baptized into the Kingdom along with Joan about a month before their wedding. Thanks to everyone who financially supported Patrice and Joan in making this joyous day happen!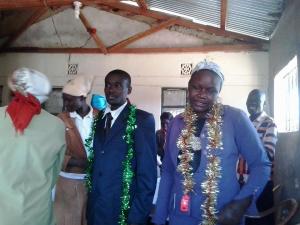 We are very happy to announce that Tim and Rebekah Nafziger and their three (plus one on the way) children have finally joined us here on the ground in Kenya. Karibu!
Looking ahead, we have some great missions planned for February. Next week we will be hosting a week-long Swahili language class.  A man who has lived in Kenya for 30 years has made it his mission to help missionaries learn the local language. Glenn Roseberry will also be joining us from Tanzania for this event.
Charlton and Nashon (a local disciple) will be making a trip to Uganda to do some follow-up discipleship, as well as following up with a Christian disabled group, who they have taught the Gospel of the Kingdom to. They plan on assisting with equipment repair, such as paraplegic cycles and sewing machines. They will also be working on the building that they meet in, since it is falling apart around them.
I will close by sharing some photos of a recent Carrier/Sweazy Family Day trip to Mount Elgon. Thank you for all the love and support. Enjoy!