What does it look like to live in a developing nation without electricity, without supermarkets, without automobiles, without all the myriad of things that many people use every day? What does it mean to live in a village where supermarkets don't exist? A village with very small shops with very few items? This scenario is typical of many small, African villages.
Life can be simplified in two ways: voluntarily, or involuntarily. Simple living asks, how little can a person live with and be satisfied? Or perhaps, how much a person can live without and still be comfortable? Poverty can serve as a strong catalyst in simplification of one's life. Poverty itself can also be either voluntary or involuntary.
Because of the simplicity of many villages of Africa, supermarket is among the unfamiliar terms which very few people will understand. Small canteens and tiny shops (usually called duka) are what serve the order of the day. Supermarkets are only found in bigger cities and major towns. In the village duka, you won't find the secondary needs on the display, only the basic needs. You won't find the luxurious things of life, only the necessities. Here you won't purchase monthly supplies, only daily supplies. In a supermarket, customers can walk through the aisles and pick up what they need. A duka is usually fully closed-in; customers choose from visible inventory and the shopkeeper passes it through an open window.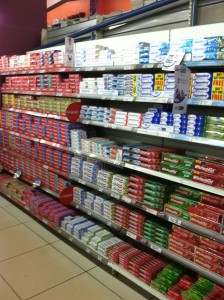 Most villages have at least two to five shops, which meet all the demands of the villagers. These shops sell only basics and primary supplies that are necessary for the welfare of the families. The shops usually all sell similar commodities, which mainly are  food stuffs and other basic needs: sugar, bread, rice, cooking oil, wheat flour, salt, soaps and washing detergents, sodas, tissues, sweets and few other things. The quantity of washing detergent is usually 10 or 20 grams–enough to wash the day's clothes. Sugar, and even fresh milk, are sold in quantities as small as 1/2 cup–just enough for the day's chai.
As the old adage says, the earliest bird catches the worm; so, too, are the shopkeepers who wake up early in the morning. Because all village shops sell similar commodities, it is only those shopkeepers who open their shops very early and stay open after the sun sets that will make a higher profit. An average shop will make about 300-500 KSH ($3-5) profit every day, but this profit might change during the harvest seasons as the circulation of money will be higher at those times.
These shops are normally open early in the morning at around 6:30 a.m, and close late in the evening around 8:30. Usually women are responsible for running the shops during the day while men work in different areas, often farming. A shopkeeper can serve a minimum of 30- 50 people every day, depending on the time he/she opens the shop.
In many villages the task of running a shop is undertaken by the average, bright minds who are able to deal with little calculations, keeping records, giving accurate balances and accounting. Shopkeepers are viewed as a life -line of village life and a main cornerstone of the community foundation. These small village shops have uplifted the living standards of the village people, providing sources of employment and boosting the economic growth of the nation.