The month of March was an interesting one for Mzee Timothy, our church's deacon who oversees our medical program. Timothy typically goes shopping on Wednesday for the malnourished children that we serve, then packages up their weekly food supplements on Thursday, and distributes them on Friday. All of these steps are more time-consuming than you might think, so he appreciates the help of two of our church's wazee ("old men"), Cosmos and Samwell, who escort patients to various hospitals or appointments as necessary. However, on one Thursday this month, Timothy's work of bundling foodstuffs was interrupted by an emergency: a 20 year-old woman with a hand injury. Apparently, she and her husband were visiting Kenya from Uganda and had found day labor; however, they had gotten into an argument and he attacked her with a panga (machete). Timothy reported that the husband had intended to slice his wife's throat, but "thankfully, she diverted, and he only cut her hand, but very deep!" He added, "It's very important that we help the foreigner. The Bible says so. But there are no wazee to take her, and I am busy. What can I do?"
I sat and thought about who might be available to bring her to the District Hospital, as our local clinic does not generally do stitching. I offered a couple of suggestions, but it looked like everyone was already busy with patients, or other day-to-day personal tasks. Abruptly, Timothy said, "I will go! I can finish my bundling tonight. I will work late." (You must understand that when one visits the hospital, there are no appointments, and the wait is long. It was already about 11 AM, so between transport, waiting, and receiving the necessary care, we both knew he'd return late in the evening.) Such is the dedication of our Mzee Timothy! Off they went, and the stitching was gratefully accomplished.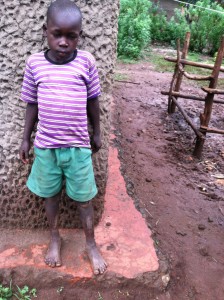 One Saturday, another of our church's deacons, Silas, approached us with a unique problem: a 5 year-old boy and his age mates were horsing around and decided to see what would happen if they put some of the milky excretion from a local plant on each other…and it ended up on the boy's private parts, which almost immediately swelled and became painful. We brought him to a local health center, which referred him to the District Hospital. Silas took the boy (with his mother) for treatment, and by the next day, with some anti-histamine and other drugs, the boy was thankfully feeling better.
We are blessed to see how God has worked through our medical missions team here, to serve the needs in our community and our fellowships. Just this month, our regular budget for medical was doubled through the generous gift of one of our partners; this means that we can do even more! We are happy to report that this month, our regular medical expenses amounted to almost $400, and despite a couple months' shortfalls for medical, we had earmarked money for all these needs! We praise God and are so thankful for all who make this possible.
We also had some special medical expenses, including ongoing cancer treatment for our brother, Victor, who visited Uganda again for a follow-up with the oncologist.The boy, Esau, with the enlarged spleen, returned to the hospital for blood tests to evaluate for sickle-cell, and received more medicine to treat for malaria, "just in case." We're still without a firm diagnosis for this poor boy! Our team also organized treatment for Metrine, a young mother with severe pain and disability and one of her hands. After several scans and a consult at a private hospital, she was diagnosed with a rather generic "arthralgia" an d given several medications as well as some suggestions for ongoing physical therapy that might improve both the pain and her range of motion.We're still waiting to be able to treat Micah Juma's badly broken leg. Despite two trips this month to the hospital and being on an antibiotic regimen for several weeks, they still have not cleared him for surgery, due to an ongoing infection. Please keep him in your prayers. These special medical expenses amounted to just over $500, and again, we are thankful that God is meeting these ongoing needs with provision through His people!